Divorce and Legal Separation
Coeur d'Alene Divorce Lawyers
Attorneys for Divorce & Legal Separation in Northern Idaho
Are you filing for divorce in Coeur d'Alene? Getting divorced can be an emotionally charged, intensely personal, and complicated experience. However, knowing what to expect can help decrease stress and provide you with a strong sense of security during a time when your future may seem uncertain. The decisions you make during your divorce can have far-reaching impacts on your future, therefore you must be wise when choosing a divorce lawyer in CDA, Idaho.
---
To arrange a free consultation with our Coeur d'Alene divorce lawyers, contact us online or call us at (208) 712-8292 today!
---
At Walsh & Lewis PLLC, our divorce attorneys in Coeur d'Alene can efficiently guide you throughout the legal process from beginning to end while ensuring you are not taken advantage of by the other party.
Representing Your Best Interests Throughout the Entire Divorce Process
We will explain all steps of the divorce process and inform you of what to reasonably expect before creating a strong case strategy that can help retain your assets and rights, such as:
Parental rights
Custody rights and more
Proudly serving all five counties in North Idaho and having 30 years of combined experience in successfully handling divorce cases, there is no better team to help you create your new happily ever after than us.
How to File for Divorce in Idaho
In order to be eligible to file for a divorce in Idaho, you need to be a state resident for at least six weeks. Once that standard has been met, you can file for divorce at the district court in the county where either you or your spouse resides, alleging fault or no-fault grounds. No-fault grounds include irreconcilable differences or living or planning to live apart for at least 5 years. It's important to note that if you're filing for divorce on fault-based grounds, you must support your allegations with evidence, which could extend and complicate the process.
What are Grounds for Divorce in Idaho?
There are 6 fault-based grounds in Idaho:
Adultery
Extreme cruelty
Willful desertion
Willful neglect
Habitual intemperance
Felony conviction
Permanent insanity
Contested Divorce vs Uncontested Divorce
Divorce can be contested or uncontested.
A contested divorce occurs when spouses disagree on major decisions concerning property division, child support, child custody, and maintenance. As in filing for divorce on fault-based grounds, a contested divorce can complicate and elongate the process because it may require arbitration, mediation, and, potentially, trial.
Uncontested divorce, filing for divorce on no-fault grounds means both spouses can agree on all significant terms in their divorce before trial, making the proceeding much more efficient overall.
Idaho Divorce Process
The Idaho divorce process may differ on a case-by-case basis. If no minor children are involved, a divorce can be relatively quick. However, many divorcing couples in Idaho have children, therefore our attorneys will explain the step-by-step divorce process for cases involving minor children. If you have any questions about what the process may look like for your unique situation, please don't hesitate to contact us at (208) 712-8292.
Idaho courts advise parents who are filing for divorce to follow the steps below:
Talk to an Attorney
Divorce rules and proceedings are complex. Even if you follow all the right steps and take the proper precautions, you will not be guaranteed a favorable outcome in your situation. Although hiring a lawyer does not guarantee success, it does maximize your chances of overcoming your divorce matter as effectively as possible while protecting the current and future best interests of you and your children.
Obtain and Complete the Required Forms
You need to complete the following forms if you are filing for divorce in Idaho and have minor children:
Petition for Divorce, CAO D 1-5
Summons, CAO FL 1-3 (with Minor Child/ren)
Certificate of Divorce or Annulment, HWH-611, available from Court Clerk or at the Court Assistance Office, not available on-line
Family Law Case Information Sheet, CAO FL 1-1
Order to Attend Divorce Orientation/ Parenting Workshop
Affidavit Verifying Income (Child Support), CAO FL 1-11
Child Support Worksheet, CAO FL 1-12 or 1-13
Parenting Plan, CAO FL-3
If you don't know where your spouse lives, you need to fill out the following forms:
Motion and Affidavit for Service by Publication, CAO FLPi 1-5
Order for Service, CAO FLPi 1-6
Summons by Publication, CAO FLPi 1-4
Affidavit of Mailing Per Order for Publication, CAO FLPi 2-3
Make Copies and File with the Clerk
You are advised to assemble all the required forms with your divorce petition and make two copies of each completed CAO form, placing the copies underneath each corresponding original form. You must then go to the Clerk's Office and submit all your completed forms and corresponding copies in addition to filing fees, or a "Motion and Affidavit for Fee Waiver, CAO FW 1-9", and the original and copy of a proposed "Order Re: Fee Waiver, FW 1-10."
Obtain Service on your Spouse
This step requires you to "serve the papers" to your spouse, including the Summons, Petition, and order to attend a parenting workshop, if applicable. There are three different ways to accomplish this, all of which depend on whether or not your spouse cooperates, and if you can locate them. Our attorney can determine which method best suits your case before devising an effective plan of action that helps accomplish this step as efficiently as possible.
Wait 21 Days
Idaho mandates a 21-day waiting period between the time your spouse was served and you finalize your divorce. If your spouse doesn't respond to the court in writing within 21 days of getting served, your divorce may get finalized by default. Be mindful that attending the parenting workshop, if applicable, is required in addition to the 21-day waiting period to get a default divorce.
Determine if a Reply Is Necessary
If your spouse responds to their service in writing, read it closely to determine if a response is needed. For instance, if they filed a "Response and Counterclaim," you have 21 days from the date it was served to file a written reply. If you don't respond in time, the court may order a default against you, meaning your spouse (the respondent) could receive everything declared in their counterclaim.
Comply with Mandatory Disclosures of Information
If the other party requested a change to child support, you must provide income information to the other party within 35 days from the date they filed a response. If your spouse disagrees on the property/debt division, you both have 35 days from their response date to provide each other with specific property and/or debt information.
Follow Notice of Status Conference, Scheduling Order or other Court Orders
While most Idaho divorces go to trial within 6 months of filing a response or response and counterclaim, the court will send you various important papers that may include a Notice of Status Conference or Pre-trial Conference, Scheduling Order, or a Notice of Trial Setting. Failing to meet court deadlines or appear at scheduled meetings may result in criminal punishments and losing your case.
Consider Negotiation, Mediation, or other means to Settle your Case
The last place you want to settle your differences is at trial, as it can be costly, time-consuming, and draining. To best avoid the downfalls of trial, many divorcing spouses utilize alternatives such as written settlements, mediation, arbitration, and the appointment of a special master. Should you hire our divorce lawyer, we can help you understand your options, advise you on the best course of action for your case, and guide you every step of the way.
How Are Assets Divided During a Divorce?
Idaho applies community property law in divorce cases, which means that the assets and debt acquired during the marriage equally belong to both spouses, therefore they will be divided equitably at the time of divorce. However, there are exceptions to this legal concept, and determining if a particular asset is community property can be complicated.
An asset's characterization as community property, separate property, or a mix of community and separate property can have a significant impact on how the estate assets will be divided between the spouses. Since property division is often highly litigated between divorcing spouses, the correct characterization is very important. Thus, it is crucial to have experienced legal counsel on your side to assist in resolving such disputes.
Debts, savings, and value accrued on separate property during a marriage can all be considered community property in the eyes of the court. When dividing your estate, the court will take into account numerous factors, such as the existence of a marital agreement, both spouses' earning capacities, whether or not alimony is necessary, and more.
Call a Coeur d'Alene Divorce Attorney Today at

(208) 712-8292
For effective, personalized, and committed legal services, retain Walsh & Lewis PLLC right away. Regardless of how complicated your divorce may seem, our Coeur d'Alene divorce lawyer can help you resolve your legal issues quickly and efficiently. Contact us today and set up a free case evaluation with our attorneys, where we will listen to all aspects of your situation and provide you with well-informed advice about your best options moving forward.
---
We are here for you during challenging times. You are not alone.
---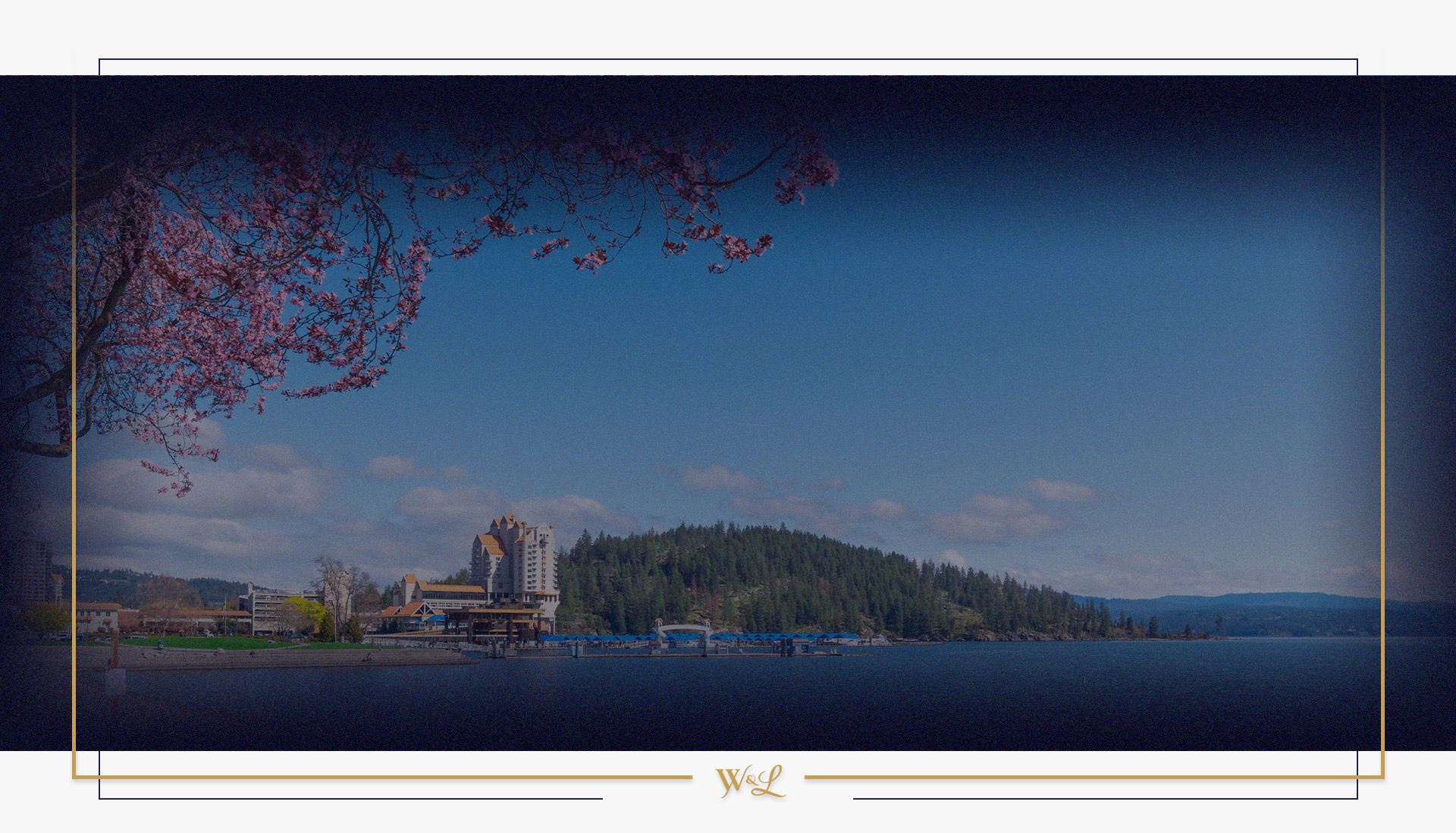 A Reputation Built on Positive Experiences
Dedicated to Client Service
"I have absolutely no doubt that if my experience with Sean was more, that I could speak to even greater lengths to both just how exceptional an attorney he is as well an individual."

Jesse

"I'm so grateful for the people in this office. In the worst time of my life, everyone was kind, knowledgeable, and understanding."

Zachary

"Alexandria is upfront and honest about everything and the passion she has towards her clients is absolutely amazing!"

Tabetha

"Alexandria was caring, honest, always followed up, very professional, and extremely knowledgeable. Family law can be very difficult to navigate through and she was patient with me as I weighed all the options."

Rachael

"Sean not only used his knowledge of the law but he articulated it in a way that was perfect! If I could afford to have a lawyer on retainer it would be him!"

Anthony